SEO is the continuous process that takes too much effort to getting any site on first page of search engines. It is not the work of a night to get on top of all. Many of the Search Engine Optimizers claim that they will get your site on top of all in very few time but it's not true to get any site to top of all in very short period.
It takes too much continuous efforts to make any site on top because you have to beat other Search Engine Optimizers.
SEO Advantage at Crystaltech eSolutions:
It is your right to ask the advantage we provide over other Search Engine Optimization Services.
We have made a strong reputation in the SEO over 11 years. We have achieved it not by claiming, we have done this, that and so on but by proving our work.
Most of the Search Engine Optimizers are engaged in only SEO services and they do the work related to SEO only. It is very important to make changes in the website's design content and keywords according to requirement and for this you will need a SEO cum Website designer to provide you total solutions.
We are engaged in professional SEO services as well as Website designing so that we can provide you all type of web solutions under a roof.
The quality work we produce is the result of our higher standard SEO process that enables us to understand requirements of our clients so that we can serve them in best possible way.
The process we use for SEO is as follows:
Analysis:
Business Analysis
Website Analysis
Keyword Analysis
Preparation:
Keyword Optimization
Website optimization
Meta Tag Creation
Content Creation
Implementation:
Web Directory Submission
Social Bookmarking
Link Building
Blog Submission
Article Submission
Follow Up:
Report submission:
Traffic Report
Ranking report
Quality Report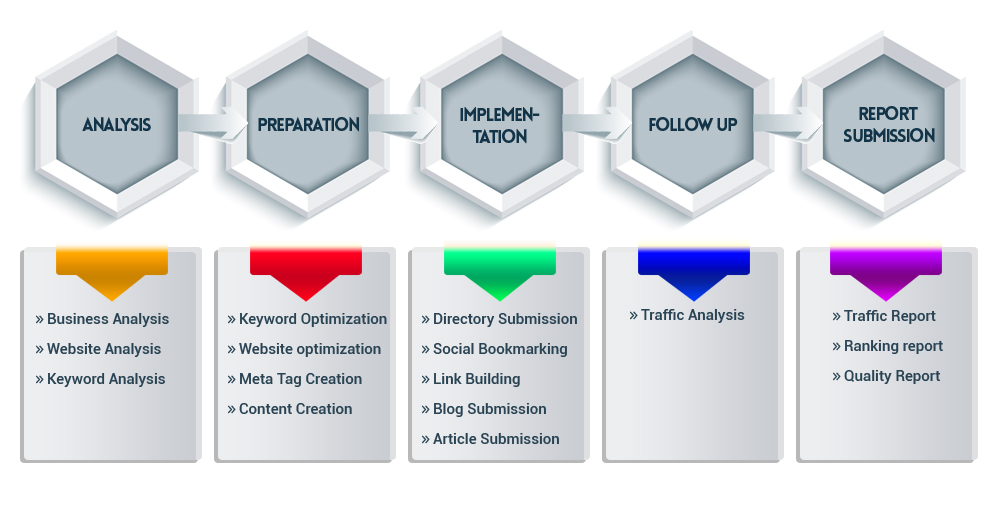 Analysis:
Business Analysis:
It is the first process to start our SEO implementation.
We need to understand your business and its requirements to give you a solution for exactly your needs and requirements.
Website Analysis:
Analyzing your website enable us to find the necessary changes need to do in the website so that we can make it more SEO friendly.
We also analyze your competitor's website so that we can get their strategy and beat them in ranking.
Keyword Analysis:
We analyze your site's keyword to find its connection to site's content. With the help of analyzing your site's keywords, we find better solutions for your site.
Preparation
Keyword Optimization:
We optimize good keywords according to need of your site so that it can be quickly listed on Search engine pages.
Website optimization:
Website optimization is the process of designing your web page in accordance with search engine so that you can see your website at top of all.
We optimize your site exactly what it provide so that visitors can easily find your site.
Meta Tag Creation:
Meta Tag is another important process. Meta Tag is a very useful thing in the context of SEO as it instruct browser. It contains a description about your site and it is visible in search engine listing where your site is shown.
Content Creation:
The content of the website plays a very important role in the ranking of website. Most of the search engines list the site on top if its content is matching its keywords.
We analyze your site and provide you with the right content matching to your keywords so that you can get top position easily.
Implementation
Web Directory Submission:
Web directory submission is the process of submitting your site to the web directories so that it can be available in search engine listings.
There are thousands of web directories available over the internet and we provide the facility to submit your site to all of them.
Social Bookmarking:
Social bookmarking allows internet users to store, organize and manage bookmarks of web pages on the Internet.
Web pages are bookmarked with the help of metadata in the forms of tags.
Social bookmarking is the very good way to get right targeted traffic with the help of tags and we choose top ranked sites so that you can get traffic instantly.
Link Building:
Link building is the process of building link on other's website so that you can also get traffic from other's website. It helps to find likeminded people whom your website deserves.
We help you to build reciprocal links on other similar website where you can find your targeted visitors.
Before building a link to other's website we analyze that website that it deserves your link or not.
Blog Submission:
Blogs are the very famous way to promote business. It is very helpful to attract traffic to website because blogs are always related to people and people like to watch blogs.
We help you to submit blogs on the top blogs website and many other important sites from where you can get your targeted visitors.
Article Submission:
Articles are another important thing to get right targeted traffic. We write articles as per your site's requirement and then post them with top rated article submission sites.
Follow Up
Traffic Analysis:
After implementing all our SEO techniques process, we follow up our process by analyzing traffic of the website. If your site gets good right targeted traffic then we continue the whole process and if it's not getting satisfactory then we check out whole our process and find reasons behind less traffic and improve the techniques we used.
Report submission
Traffic Report:
We send traffic improving report to our clients so that they can feel the improvements we made in the traffic of the site.
We provide them with complete details of work we have done to improving their traffic so that they can get maximum satisfaction from our services.
Ranking report:
All major search engines update websites' ranking every week. So we need to send complete details of ranking of our customers' websites to keep them aware about ranking of their websites.
Quality Report:
We don't leave any website if it is getting good traffic but we check quality of our driven traffic so that we can know if our customer is getting benefited.
We prepare a complete report of the traffic driven to your website and send it to you so that you can get knowledge about traffic comes to your site.
Better use of technology can make your site top of all but if you don't use properly it can be very expensive to your site's ranking.